2019 is shaping up to be a great year in the world of online shopping. With features such as human-like chatbots and high-speed delivery, online shopping is increasingly considered a 21st-century lifestyle. This new year, why not learn how to maximise the convenient lifestyle and become a smart shopper? Dokkupay brings you the following tips on how to make the most of online shopping.
1. Know when and where to get discounts
Is it just me or do you get excited too when you have a coupon code ready to be used?
Image credit: Giphy
Thanks to websites such as Saleduck and CupoNation, you can now easily obtain those codes for your favourite brands! From travel packages, food to electronic devices, you only need to sit back and relax while they scour the web for the latest discount codes and promotions.
To increase customer loyalty, some brands also offer exclusive discounts on their social media. So, make the most of the insider perks and benefits that are not advertised elsewhere by 'liking' and 'following' them! Some brands such as HappyFresh even compensate their late deliveries with a promotion code for your next order, so always make sure your email is registered when you shop online.
A smart shopper will also know when to abandon their shopping cart. Closing the website or app without completing your purchase will trigger some brands to send a follow-up email a couple of hours or days later, complete with a special discount if you return to the cart. Better late than never, right?
With the rise of chatbots, it is also pretty much effortless to ask if there are any relevant promo codes available. Just remember to greet them first!
2.   Learn about the price
The classic old tip of comparing prices still applies. In the offline world, you would do this by visiting store by store. Now, there are price comparison websites and apps that you can utilise such as Hargapedia and iPrice. The convenience of comparing prices online helps you do the next thing, which is planning your time (to shop, of course!).
Let's take travelling as an example. One of the top travel trends in 2019 is travelling during the off-peak season for cheaper rates. What we can learn from this is that taking your time and planning when to purchase are all crucial moves to online shopping. Buying the latest gadget right after it's released isn't the smartest move nor is overspending on plane tickets due to last-minute fees.
Image credit: Giphy
Online shopping has also paved a more efficient way to what e-commerce retailers call 'dynamic pricing'. This means using user information such as purchase history, search history, and even location to price their products. Unfortunately, this also means an increased price for you.
To counter this, clean your browsing history and cookies. Or browse using several browsers and go incognito. This way, the prices will be the default ones.
3. Then, shop securely.
If online shopping is considered an ever-evolving lifestyle, then shouldn't we learn how to create a safe space for it? Unfortunately, fraudsters and scammers are everywhere.
Let's make 2019 the year we shop safely online, shall we? First thing first, if you are shopping on a website, make sure you only choose the secure ones. That means, the address must begin with 'https://', not 'http://' and you should be able to see an image of a closed padlock beside the address.
While you're at it, check if there are any misspellings or sites using a different top-level domain. For example, if your favourite brand is suddenly using .net instead of their usual .com (and vice versa), that's a red flag.
The challenge of online shopping to date is the lack of touch and feel of the physical products. Brands have been using different methods to bridge the gap and overcome customer hesitation, but, returns are still inevitable in online shopping. Hence, familiarise yourself with the return, exchange and repair policy.
Tip: Some brands increasingly offer free shipping for delivery and return as well as giving a full refund for unsatisfactory products. So, you can maximise this by buying multiple products of different sizes or colours. Alternatively, if you still hesitate about the product, opt for the cash-on-delivery (COD) option. This way, you can evaluate the product yourself and choose to accept or refuse it.
4. Turn to your social media
Social commerce (or social shopping) is a major driver in online shopping this year. For the uninitiated, social commerce refers to the buying and selling of goods through social media such as Instagram, Facebook, and WeChat. Not too shabby considering that shopping is essentially a social activity!
This year, more and more of your favourite brands will be using social media to help you purchase effortlessly. Gone will be the days of scouring an entire online catalogue for that one cute top you liked on their Instagram.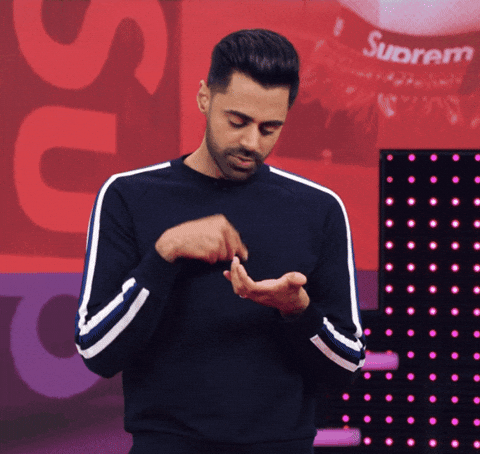 Image credit: Giphy
You'll be able to watch videos and stories related to the products, hear what other people are saying, click on shoppable tags and purchase instantly. Reviews, which are an important feature in online shopping, will be redefined with user-generated content (UGC). You'll find more real people and customers on your favourite brand's Instagram feed.
From buttons like 'Buy Now', 'Shop That Look' and 'Tap to View Products' to scanning QR codes instantly, there'll be cutting-edge initiatives to make your checkout experience quick and easy. So, stay tuned!
Conclusion
While online shopping is here to stay, it's also crucial to check your impulse before hitting that checkout button. Maybe it's best to unsubscribe from mailing lists that you don't actually care. Or the next time you fill up your virtual shopping cart, sleep on it and wait for a few days before you proceed.
We at Dokkupay believe that everyone is entitled to buy things that they want without falling into the traditional credit trap. So that's why we created DokkuPay to allow you to "Buy Now. Enjoy Now. Pay Later" with three different types of installments. No credit card needed. Visit our website today to reclaim your financial freedom. 
When all is said and done, you'll be surprised at how a little extra effort can help you make the most of online shopping and be a smarter shopper.
Stay connected and get the latest updates and news about Dokkupay: Dokkupay Website, Facebook, Google Play, and iTunes App Store.